Commercial elevator
Whether you need a commercial elevator for office buildings or an elevator for supermarkets, Hongsting Elevator can provide you with the most satisfactory commercial elevator solution. No matter what your needs are, we are your professional commercial elevator manufacturer.
---
Commercial elevator specifications
Elevator speed: 2.m/s,2.5m/s,3.0m/s,3.5m/s

Elevator capacity: 800kg,1000kg,1150kg,1350kg,1600kg

Occasion and scope of use: office building, high-rise building, commercial centre
Features of our commercial elevators
1. Efficient and 30% energy saving;
2. Humanized design, comfort and natural;
3. Double VVVF driver , stable and reliable;
4. Green environmental, automatic lighting of LED energy-saving lamp;
5. Low noise;
6. Top advance door operator system;
7. Remote monitor can follow commands from a long distance away;
8. Photocell protection.
---
Structure of elevator
Employ gearless permanent magnet synchronous traction machine which has compact structure and high power, then the efficiency can above 98%. Energy conservation, Stable start, Fully satisfy kinds of business building whose elevator is used frequently.
Control system
Efficient modular microcomputer control system can accelerate system of operation and motion efficiency. Shortly reaction, accurate fixed position, more stable incompleteness.
Door machine system
Light and quiet door inverter adopt a new-type variable-frequency speed control system which can automatically adjust output torque and make drive more conveniently. It also has high-sensitivity. Open and close quite stably.
---
Decoration of commercial elevators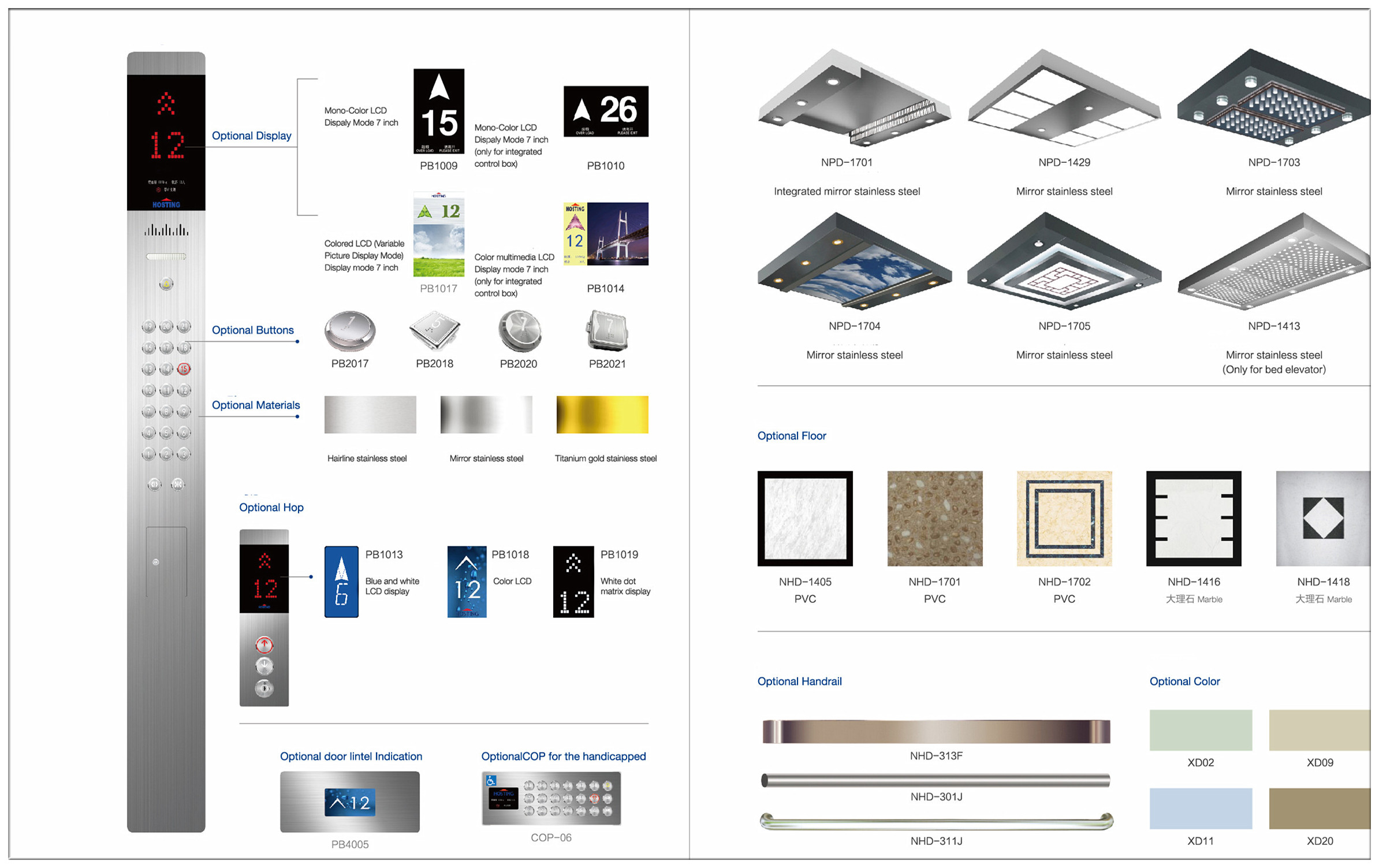 Optional Cabin designs
---
Advantages of our commercial elevator
1. Elegant and stylish space, new feeling
Equipped with a large-height elevator car and LED illumination, the Hosting Commercial Elevator series elevator adopts popular liquid crystal human-machine interface and is designed with a fashionable and gorgeous appearance. The integration of technology and fashion brings you brand new enjoyable visual and tactual experience during the short lifting time. Various options of decoration are available or you can customize soft decoration according to the style of architecture, bringing your guests a sudden extraordinary feeling when step in.
2. Comfortable ride
VVVF elevator variable frequency drive technology adopts new-generation AC vector control technology and automatically generates elevator operation curve, and smooth transition of elevator leveling is achieved by elevator automatic acceleration and deceleration adjustment. This allows Our commercial elevators to run more steadily while providing enhanced comfort
3. Smart system,Reduce passenger waiting time
In the group control system, elevator system dispatches elevators for you with fastest speed and highest efficiency. When all elevators in the group control system are under waiting status for a certain time, the group control system will start intelligent dispatching to improve operating efficiency of elevators, reduce your waiting time and improving your good mood
Operating mode for rush hours: Meeting operating requirements of rush hours for public places such as office buildings

Balanced operating mode: Dispatching elevator with the principle of minimum waiting time and rapid elevator responses

Idle mode: When under idle status, elevators are distributed evenly in designated areas to ensure rapid and timely response to hall call
---
Commercial elevator function table
Basic Function
Emergency function

Alarm device(ALR)

Emergency lighting(URG-L)
Car alarm(BELL)
Computer room emergency electric operation(ERO)
Energy saving function

Car lighting automatic control(LAC)

Car fan automatic control(FAC)

Stop service lock(KSS)

Matching function
Matching function
Operating function
Parallel control(PAR-C)
Group control(ENC)
Fire operation(FBS)
Short story station run*(SFL-R)
Car air conditioning(ARC)

Security function

Safety contact plate protection(MSS-PT)
Special operation function
Opening the door(DO-PR)
Security layer function(FFP)

Forced closing function(FCF)

Independent operation(ISC)

Interface
Intelligent voice prompt(VLB)

ID card iden ii cation control*(ID-C)

VIP VIP service(DGS)

Emergency function

Automatic emergency evacuation(EMG-R)

Seismic operat on(EQO)

Energy saving function

Energy feedback*(ERY)

Intelligent control of car inner fan(FAN-IC)

Monitoring function

Car video surveillance(AVCC)

Community monitoring system(TEL-C)

Internet of things function#(IOT)

Pit water level monitoring#(WLM)

Building monitoring interface#(LMO)

Note:

1. plus"*" number of options, the need to confirm the factory before deciding whether to provide users with

2.with a"#"option to describe this function to the customer, and ultimately by the customer to determine whether the above work
---
Elevator Shaft plan
As an excellent elevator manufacturer, we can make the elevator you need for you
5.0

/5 Showing

6

of

2

reviews

-
Jan 01.1970
Hosting lifts are of good quality and the service is great. We have been partners for a long time.

-
Jan 01.1970
Contact Us Now
Enter your inquiry details, We will reply you in 24 hours.
Phone can't be empty
Phone
Products can't be empty
Products you want
Verification code error

People who viewed this item also viewed

Dongwu Town, Yinzhou District, Ningbo City, Zhejiang Province, P. R. China
You can trust us
As a Top 10 elevator manufacturer in China, We developed core technologies to supply passenger elevator, high-speed elevator,  observation elevator...
Enter your inquiry details, We will reply you in 24 hours.
Verification code error